Pet Door Installation of  The Thermo Flap insulated Pet Doors, Dog doors & Cat Doors with over 65,000 Satisfied Customers Since 1999.
Service for Los Angeles County,  Orange County,  San Diego County,  Riverside County and San Bernardino County and Southern California Please Call for Installation Rates.
We Install Dog and Cat Pet Doors in Walls,  Doors,  French Door Squares,  Glass and  Custom Built Pet Doors for Existing Cut Outs, Frame Size or Flap size.
Pet Doors in Doors
This is the typical install and most sought after. Over the years there have been other types of installs that pet owners are unaware of like in a wall, french door or glass. Doors come in a variety of options from flat (smooth) to paneled, hollow core, solid core, steel skin and even fiber glass, and range from 1 3/8″ to 2 1/4″ thick. Whatever the door construction is our THERMO FLAP pet doors can be installed. Our pet doors have a telescopic frame and will fit any door thickness.
Pet Doors in Walls
Installing a Dog Door Or Cat Door in your wall is not as big a project as one would think. The total job install takes about 2 hrs. with NO MESS and is the most requested installation type. We install dog and cat pet doors through brick, stone, siding and stucco.
There are many benefits to installing a pet door in a wall.

1. The wall can be patched back, no need to ruin a door.
2. The pet door can have a flap on each side of the wall creating dead air space between the flaps protecting the home from the elements outside.
3. Most home owners have pets and the pet door is a great option on a home during resale. 
Pet Doors for French Doors 
French door squares is always an interesting project. The pet door is custom built to fit the existing glass pane opening and come Single or Double Flap Insulated and is a great option for a installation.
Pet Doors for Glass
This is an Expensive option as the glass needs to be replaced, this is always challenging with all the different types of glass. Glass doors come in a range of thicknesses from 1/8″ to 1″ and come single or double pane and are constructed in all types of frame materials. Over the years we have seen glass break with bigger dogs even safety tempered glass. Dogs over 45 lbs are at risk of breaking the glass. This usually happens when the dog sees another animal outdoors and charges the pet door and hits it in a way that shatters the glass. Not all dog are as aggressive as you know your dogs personality. And weather or not this is a safe pet door option for you.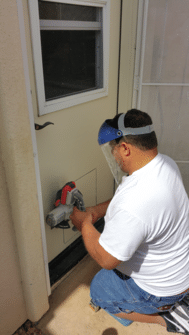 Installation options available  throughout Southern California including: